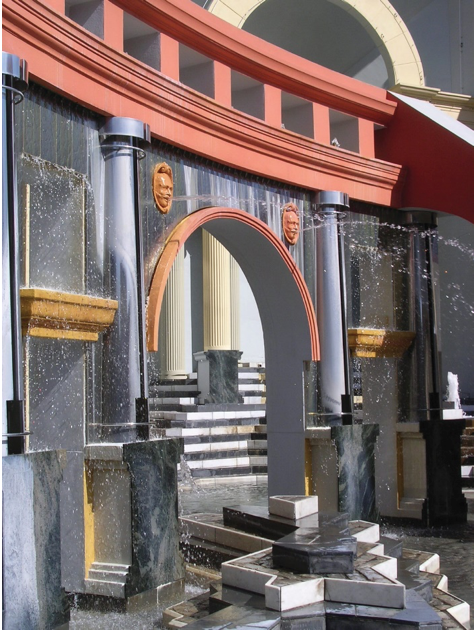 The Art of Ambivalence Disguised as Pluralism: Charles Jencks, Landscape Architect, Designer, and Writer, Died on October 13th, 2019, Age 80.
Charles Jencks was one of my professors at UCLA in the 1980s. For me personally he was notable for his gentlemanly defense of a project I produced for his studio, a Postmodernist hamburger stand in the style of the Tail o' the Pup hotdog stand in LA, a PoMo icon that literally looked like a hot dog in a bun, mustard and all. The joke–on–a–joke–on–a–joke rendering I produced in the morning twilight before the presentation was of a hamburger stand in the shape of a hamburger in its bun. On the plan of Palladio's Villa Rotonda, a reference to Jencks' own first project, Garagia Rotunda, published in his second book, Adhocism, its outdoor stools were in the shape of pickle slices placed where Palladio's Villa Rotonda's columns were in the plan.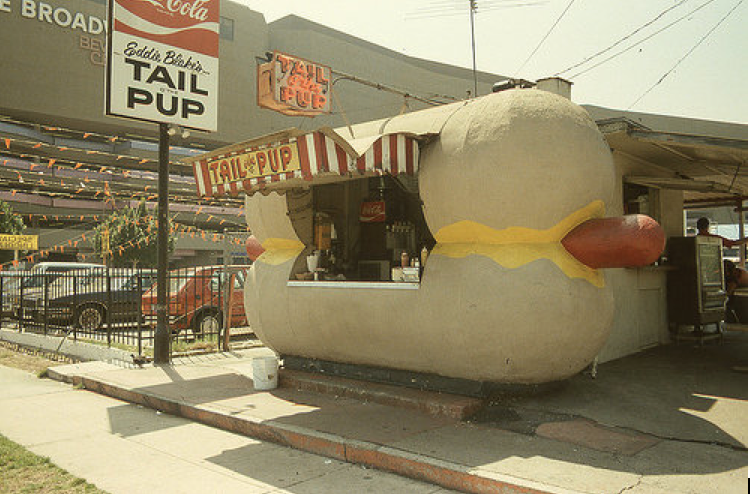 In the studio lights on it at 8:00 AM, the sesame seeds on the bun looked like swarming flies and the steam rising from it like a cartoon of reeking malodor. Presented to a jury of one—Thom Mayne of Morphosis—Charles Jencks championed this absolutely worst project I ever designed to the hilt against Mayne's utterly justified critique of its horror. The duel that ensued was the intellectual equivalent of a Baron von Richthofen World War I aerial dogfight. I stopped following it after five sentences. I can still hear the tones of their voices bobbing and weaving, engaging in verbal loop-de-loops.
It was Charles Jencks who proclaimed, "Modern Architecture died in St. Louis, Missouri on July 15, 1972 at 3.32 p.m. (or thereabouts) when the infamous Pruitt-Igoe scheme, or rather several of its slab blocks, were given the final coup de grâce by dynamite." He was referring to the notorious failed housing estate, which we all thought embodied everything that was wrong with the dogmatic principles of modern architecture and urban planning.[i]
Postmodernism was among the first aesthetic movements to openly challenge contemporary planning and architecture. It argued that Modernist "pure form" and "minimalism" were totalitarian, subjective, and anachronistic. Jencks's particular take was that modernism failed in terms of its communication. While he suggested that it could work in some situations, he admitted it would never do for mass housing or large-scale urban redevelopment.
That Jencks's classes were inspirational mostly in the manner that some conversations are best enjoyed over dinner and drinks rings true in light of his later admitting to having made up the time of the Pruitt-Igoe demolition for rhetorical impact.[ii] But the idea that modernism was over and that we were now free of its dogma both lifted the weight of dysfunctional functionalism off our shoulders, and gave us a movement and manner of thinking we thought we could follow.
According to Jencks, the raison d'être of postmodernism was to escape the closed-mindedness and bleakness of failed utopian Modernism. In its colliding styles, its forms adopted for their own sake, and its abundant new ways of viewing familiar styles and spaces, it seemed to herald the return of wit, ornament, and historical reference. Postmodernism's architectural inventors, Charles Moore (1925–1993), Michael Graves (1934–2015), Robert Venturi (1925–2018), and Denise Scott Brown (1931—) bravely tried solving the problems that Modernism had created. Under them Modernism temporarily broke from the notion that architecture could force social reform without regarding public opinion. Through the humor of form, sculpture, anthropomorphism, ornament, trompe l'oeil, and flying buttresses, they rejected design imposed on a majority by an ideologically driven minority.[iii]
Jencks' knack for staying ahead of the pack, defining things we would only see in a few years, made him "clairvoyant." He was a desirable lecturer, and I took his class. By the time the fifth edition came out in 1987, we took postmodernism for granted and worked for a few more years in that vein.
The contextual exterior (left) and great room interior (right) of a postmodernist residence in Tucson, Arizona, situated in the Sonora Desert at the foot of the Catalina Mountains. Nir Buras 1989.
Indeed, Jencks found that modernism's claim to universality was false. His bachelor's degree in English literature at Harvard University (1961), followed by a master's in architecture from the Harvard Graduate School of Design (1965), impelled him to examine that closely. Jencks's PhD in architectural history at University College London (1975), which studied tradition in Modernism, paved the way for his continuing word forays in architectural fashion, sometimes following, sometimes predicting. His doctoral thesis became the book "Modern Movements in Architecture" (1973), and Jencks arrived as a visiting professor at the University of California at Los Angeles in 1974. I met him in 1984. [iv]
In the futures, Jencks's writing may be remembered for as well as that of Nicholas Pevsner today, or he may be as forgotten as Hegemann and Peets who wrote in the 1920s. Looking back, perhaps Jencks' tongue-in-cheek playfulness if not superficiality helps us see better the present postmodern predicament both politically and economically. But although drawn to things traditional his whole career, between peer pressure and strong belief in modernity, Jencks was in the end a modernist through and through. He didn't know and he couldn't imagine that the architectural future today lies in the traditional realm. He embodied the intellectual posture of the postmodern American academic, making him more of a zeitgeist chaser than a genuine historian.[v]
The "amazing rides" Jencks took us on as students—one minute discussing the poetics of John Soane's manipulation of light in space, the next seeking metaphor in digital fractal design or cosmology—must have been inspiring to him. But the New Age mentality perplexed us. Witty, erudite, and with teasing polemics, Jencks was a generation's agent provocateur. His combined generosity and ever-enquiring mind are still here to emulate.[vi]  But despite reference to traditional forms, PoMo design was immature "make believe."
Nonetheless, Jencks's accessible writing style and his long-standing credo of pluralism made his numerous books a constantly shifting atlas of the trends and paradigm shifts in 20th and early 21st century architecture.Examining the meaning of signature buildings in a world of hyper trendiness and celebrity, in his book The Iconic Building Jencks linked the need for them to the decline of religion on the one hand and of metanarrative beliefs in progress, socialism, democracy, and freedom on the other. With things not believed in enough or without enough conviction and passion, the fact people kill each other for their beliefs shows not their beliefs' strengths but the fear of threat of the believers. Weak belief doesn't produce things of depth," he said in an interview. "Iconic buildings are caused by weak belief, because clients don't have the strong belief to say to the architect, 'This is what the icon should be about.'" [vii]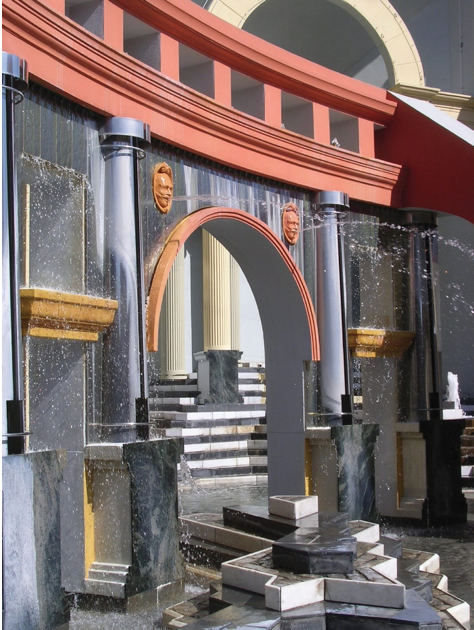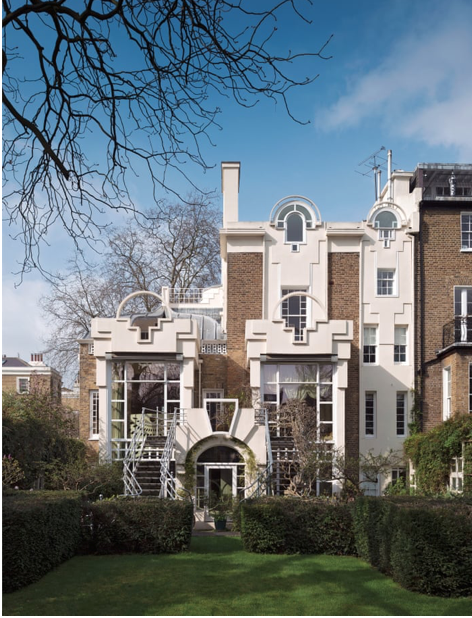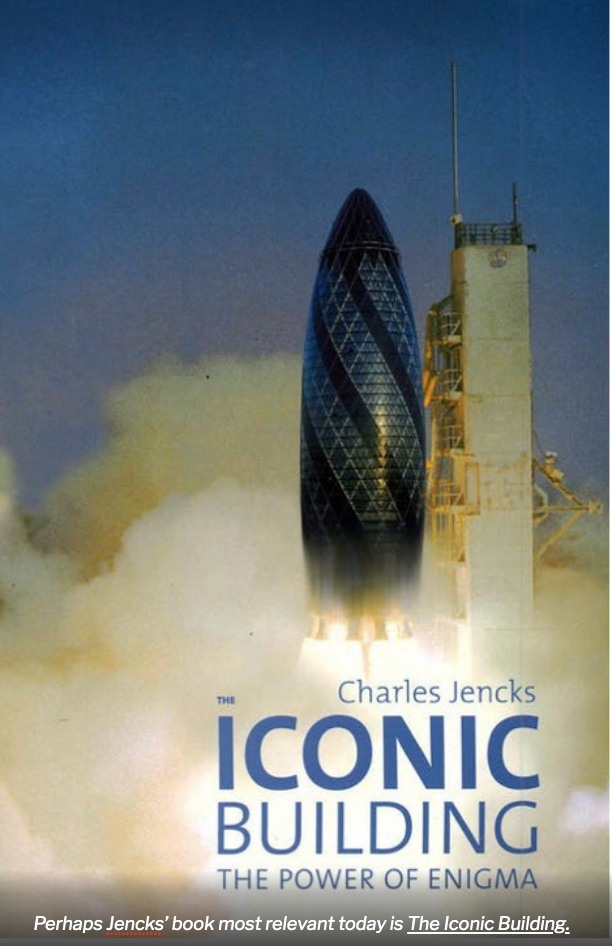 But though clients today are insecure in their architectural illiteracy, they know they want a landmark. "Weak belief plus the desire to have a landmark, plus celebrity culture, plus globalized capitalism, plus the art market's desire for the new; all those factors together produce iconic buildings." In the absence of the desire for an experience of beauty as a motivator, we get strange or tasteless, or senseless "enigmatic signifiers" like Gehry's museum in Bilbao or the Shard in London.
Jencks says that these are built because Confused about what they really value, and not wanting a strong statement, people pursue political evasion to maintain political and cultural neutrality, arguably a critique which might have been leveled at the author. But Postmodernism opened the door for the New Classical movement and renewed architectural literacy which may lead the way for us to overcome the challenges of the 21st century.[viii]   
According to Jencks' statement in his website his desire was "To see the world in a Grain of Sand, the poetic insight of William Blake, is to find relationships between the big and small, science and spirituality, the universe and the landscape."  I am not sure which of the standard literary characters Charles Jencks was. Sycophant, Fraud, Charmer, Teaser, Fake, or Genuine Family Man. He definitely ran ahead of the pack so it would always see him in front, and he worked hard at keeping up appearances as being useful and relevant. In that sense Jencks was both a talker and doer. But in the sense of his search, I think deep inside Jencks was simply a curious man who wanted to know as much as his mind could tolerate. He definitely wanted to enrich his own life and support his family with his encounters and learning. Most important, he was fun—and he was a gentleman.
While Jencks used architecture, landscape, sculpture, and furniture design as platforms for continued exploratory dabbling, it is fair to say that in landscape architecture lay Jencks' greatest artistic contribution. The 2003 Garden of Cosmic Speculation near Dumfries, Scotland has twenty areas designed around various metaphors. The contemporary sculpture park at Jupiter Artland was opened in Edinburgh (2011). Likely most notable is the fifty-five-acre land art project Crawick Multiverse in southwest Scotland (2015). In some cases, Jencks profoundly touched the English sense of landscape at its very core.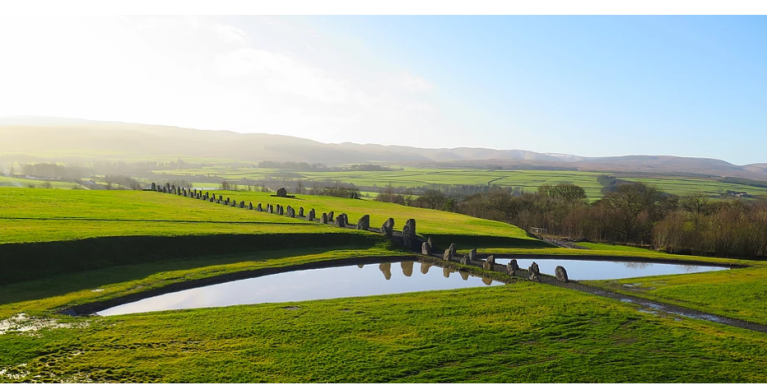 "Architecture is the last utopian profession," said Jencks, "the first and last and it has to be. The minute you get rid of utopia forget it. You might as well. You don't have an architecture profession." When asked what drove him to make works that sought to connect the land to the cosmos, his answer was, "It's something people have done even before they built Stonehenge, so why not now?"[ix]
Despite being a great categorizer, perhaps Jencks's championing of facile PoMo was a mistake because it was neither deep enough or built on sufficiently sound foundations. Although an interesting figure and highly intelligent, drawing on eclectic ideas in his own house in London, and some of his garden-design experiments that might have led somewhere, Jencks appears to have embraced too many false prophets. Jencks's subsequent claim that Deconstructivism, à la Hadid, Koolhaas, etc. was a "new paradigm" seems in retrospect to be just yet another unfortunate fashion alongside "New Rationalism," "Brutalism," and so on.[x]
In fact, the majority of PoMo professionals clung firmly to the Modernist mythos of progress, artistic genius, and the primacy of novelty, and much of their work amounted to naught. Claiming to "reference" history rather than "copy" it, they maintained the Modernist taboo against authenticity. Unlike Renaissance architects had after the Middle Ages, they failed to adopt the "old way of building" to bring beauty back to the built world. As Charles Moore told me at UCLA, "People don't build that way anymore."[xi]
Read one way, Jencks said that if architecture is done the Modernist way it will inevitably be bad and that this is a great creative opportunity for society. But then Jencks took it back with the next breath, proposing that the Scottish Parliament is a great building—and then he waffled. Always ambivalent, Jencks hedged his bets saying that the Scottish Parliament will go down in architectural history as a building with very great faults. No kidding. [xii]
Like Jencks, I don't believe in the Modernist Bilbao Effect as being more than a fleeting trend and I agree that most iconic buildings are failures. But I disagree that we have to bite the bullet of bad architecture. It is not okay to generate failures by default. It is not okay that our society destroys cities or lacks aspiration.
Perhaps more than anything, postmodernism proved that Modernism had won for at least two more generations. It had successfully conquered the minds of architects and planners, and, as planned, rendered the greater part of the following generation architecturally illiterate. Untrained in the classical method, PoMo architects shuffled the "shapes" (read "letters") of traditional architecture within their designs, rendering their buildings and spaces as architecturally incomprehensible as words wrongly spelled.[xiii]
But Jencks's studio dogfight with Thom Mayne cemented my appreciation of Jencks as a genuine gentleman. Author, architect, historian, critic, and occasional soothsayer, in his purple velvet jacket, bow ties, and brown, wide brimmed hat; charming, witty, and debonair, Jencks was Mr. Postmodernism. It is the brand he created and of which he remains its perpetual ambassador.
[i] Wainwright, Oliver, Charles Jencks obituary: Architectural historian, garden designer and writer who was regarded as the godfather of postmodernism, The Guardian, Manchester, 15 October 2019. https://www.theguardian.com/artanddesign/2019/oct/15/charles-jencks-obituary
[ii] Hopkins, Owen, Charles Jencks, the critic who helped bring postmodernism into existence, died this week. With populism on the rise, the pluralism of the movement is needed now more than ever, argues Owen Hopkins, Dezeen.com (website), 17 October 2019. https://www.dezeen.com/2019/10/17/charles-jencks-postmodernism-opinion/
[iii] Buras, Nir Haim. The Art of Classic Planning: Building Beautiful and Enduring Communities. Belknap Press of Harvard University Press, 2019.
[iv] Jencks, Charles Alexander. Modern architecture: the tradition since 1945. Diss. University College London (University of London), 1970
[v] Wainwright, 2019.
[vi] Wainwright, 2019
[vii] Jourden, John, Charles Jencks: Being Iconic, Archinect.com (website), 11 December 2005. https://archinect.com/features/article/29809
[viii] Jourden, 2005.
[ix] Jourden, 2005; Genzlinger, Neil, Charles Jencks, 80, Dies; Helped Define Postmodern Architecture: His writings announced the death of Modernism, and the public spaces he designed were full of adventurous shapes and ideas. New York Times, New York, 17 October 2019.
[x] Curl, James Stevens, Personal Communication, 18 October 2019.
[xi] Charles Moore, in answer to Nir Buras's question: "Rather than using references, why don't we build real classical buildings?" (University of California at Los Angeles, Spring 1985).
[xii] Jourden, 2005.
[xiii] Robert Venturi, Complexity and Contradiction in Architecture (New York: Museum of Modern Art Press, 1966); Salvatore Settis, The Future of the "Classical," trans. Allan Cameron (Cambridge, UK: Polity Press, 2006).
Please get in touch with us
to discuss your requirements.
Please get in touch with us
to discuss your requirements.