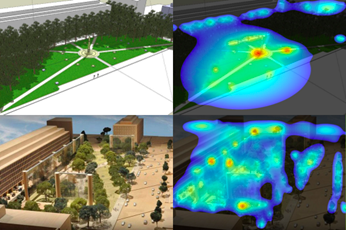 Washington, D.C.'s New Eisenhower Memorial: My Response
This piece was written in response to the Wall Street Journal article, "Monumentally Mediocre," about the construction of the new Eisenhower Memorial in D.C.. The monument cost taxpayers $150 million to construct.
Not only is a classical design for the Eisenhower Memorial in Washington, D.C. monumentally less expensive for the taxpayer, but it is also monumentally more coherent—and thereby more appropriate.
Eye-tracking "hotspots" (top right) designed by me show how much more coherent a classical design is in the urban fabric, vs. Gehry's incoherent effort. (bottom row)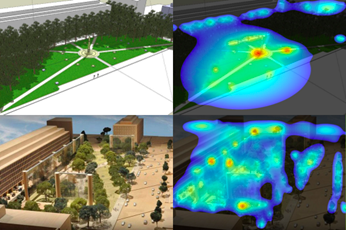 As Sussman, Hollander, and Salingaros explain, modernist design is incoherent to human perception and off-putting to humans experientially. The impacts of design have to be understood by people, not forced down their throats by means of a political edict, one way or another.
Design and urbanism are political in that they impact the community and should include its input, in the same manner that the Parthenon was built, wherein every Athenian citizen was consulted.  On the other hand, the negative impacts wrought by the dogmatic politicization of modernism worldwide show how making design a political football hurts all sides.
The hope that an executive order could correct a wrong is misplaced, because two wrongs don't make a right.  Meanwhile, legislating modernist GSA design offers the United States of America the specter of Urban Renewal on steroids. As David Brussat suggested, modifying just a few words of the GSA Guidelines can reopen the door to beauty in our federal architecture.
[Classic Planning is a registered trademark of the Nir Buras Entities.]
Please get in touch with us
to discuss your requirements.
Please get in touch with us
to discuss your requirements.